A range of ready-made funds with different levels of risk
If you'd like an easy way to start investing, you could choose one of our ready-made diversified portfolios.
HSBC's Global Strategy Portfolios are a suite of 5 multi-asset funds, each designed to match a specific level of risk. Whether you're cautious or adventurous with your money, we've got a fund for you. All you need to do is choose your preferred level of risk and we'll do the rest.
The portfolios are managed on your behalf by a team of investment professionals within HSBC Global Asset Management (UK) Limited. They monitor and manage the portfolios to get the best possible returns while staying within the designated level of risk– bringing you peace of mind that your investment will remain at the risk level you choose.
Remember that the value of investments and any income they generate can go down as well as up, meaning you may not get back what you invest. Exchange rate fluctuations can also cause the value of your investments to go down as well as up.
You can sell your investment to access your money at any time – however you should consider investing for at least 5 years.
Are you eligible?
You can invest via our Global Investment Centre if:
you've £50 or more to invest



you're an HSBC current account or savings account customer (excludes Online Bonus Saver and Fixed Rate Saver)
you're at least 18 years old and a UK resident
you're not a US national/citizen/resident (eg a US passport or green card holder)

You can open a Global Investment Centre stocks & shares ISA if:
you don't already have a stocks & shares ISA for the current tax year and:
you've not exceeded your ISA subscription limit for this tax year – currently £20,000 for 2021/2022
Why invest in an HSBC Global Strategy Portfolio?
Easy to invest
Start with as little as £50

Top up or withdraw whenever you like

Ability to set up regular investments from £50 per month
Professionally managed
Our Global Strategy Portfolios invest in UK and overseas investments

Each portfolio contains a different mix of assets suitable for its level of risk

They're monitored and managed by investment professionals to ensure they remain at the described level of risk
How it works
When you choose to invest in a Global Strategy Portfolio, we take you through a streamlined application for our online fund platform, Global Investment Centre.
Once you've made your investment, you'll have full access to the platform. This gives you access to around 400 other funds picked from a range of leading fund managers, as well as the HSBC Global Strategy Portfolios. And it means you can access, manage and top up your investment all via your online banking.
Bear in mind that HSBC's Global Strategy Portfolios and all the other funds in our Global Investment Centre are offered without investment advice. This means we aren't required to assess the suitability of this product for you.

If you're unsure if this investment is right for you, you can receive online advice by completing an application in less than 25 minutes. You will receive a personalised investment recommendation report which you can access through online banking or your mobile app. Your report will include how much you can afford to invest, which of our five funds you should invest in and which investment account you should use. Advice fees and eligibility criteria apply.

Choose the portfolio that's right for you
Click through the descriptions below to help you decide which of Global Strategy Portfolios might be right for you.
When you've decided on a portfolio, click the relevant button to choose the type account you want to apply for.
You can choose to invest via a stocks & shares ISA. Or, if you've maxed out your ISA allowance, you can invest via a general investment account.
If you'd like to invest via an ISA and a general investment account, simply choose which account to open first. You'll be able to open the other account as soon as you've made your initial investment.
Our Global Strategy Cautious Portfolio aims to provide capital growth through cautious investment in a broad range of asset classes across global markets, with a bias towards fixed-interest securities.

What's inside?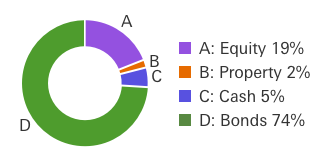 Please note, this is the strategic breakdown for the portfolio as of 30 April 2021 – for the current breakdown, read the Cautious Portfolio factsheet
Cautious portfolio
This fund is rated as 1, where 1 is a lower level of risk and 5 is a higher level of risk.
Take a look at the fees involved in the Cautious Portfolio costs & charges disclosure document.

Apply now
To invest in our Cautious Portfolio, simply choose the type of account you want to apply for. You can invest via a tax-efficient stocks & shares ISA or outside of an ISA via a general investment account (GIA).

How do I decide on my appetite for risk?
How is the risk level maintained?