An easy, quick way to send and receive money worldwide
An international money transfer is a safe, secure way to send money to a bank account in another country or region. With HSBC you can do it securely online, any time and in local currency. Plus, we only use up-to-date exchange rates during market hours and don't hide any of our fees.1
Send money around the world
Make international payments 24/7 in online banking, whether it's going to an HSBC account or another bank.

Send up to £50,000 (or the currency equivalent) online or on mobile, and up to £10,000 (or the currency equivalent) over the phone (£10 million if you're a Premier customer)

Send an unlimited amount in one of our branches

Set up regular or future overseas payments in online banking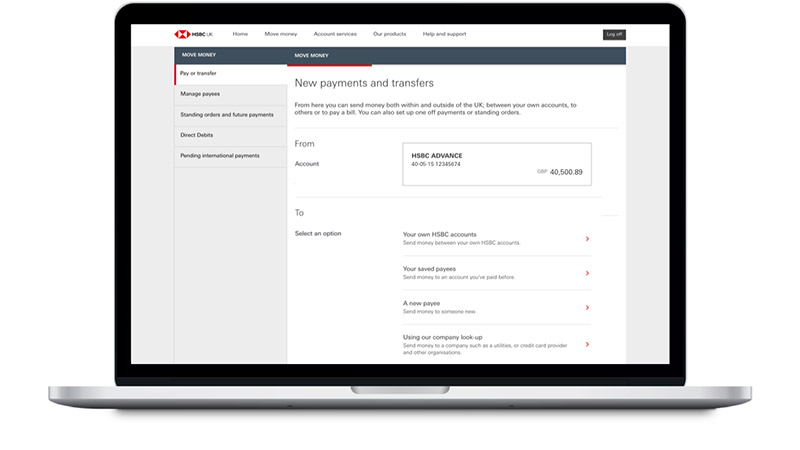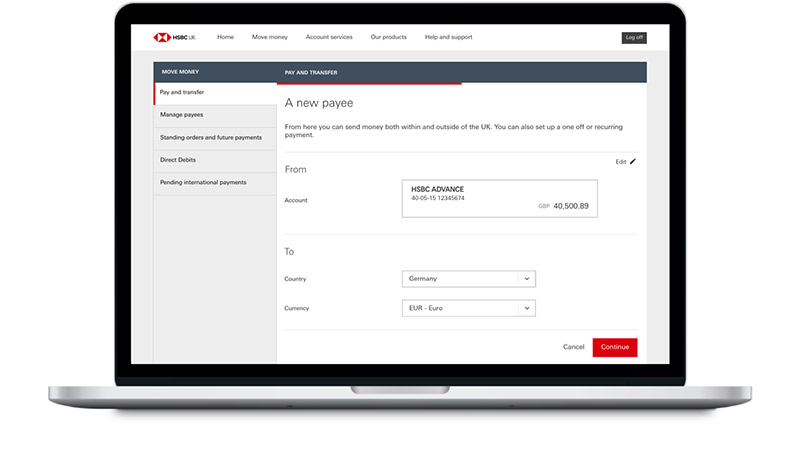 Get fair and simple fees
Get peace of mind knowing how much it'll cost to send money internationally with us.
Send money without any HSBC fees when you transfer to another HSBC account or when you pay in euros to somewhere in the European Economic Area (EEA)2

If you're sending money in any currency outside the EEA, or to somewhere in the EEA in a currency other than euros, pay a £5 HSBC fee
Know how much you're sending
Send money confidently online around the world, whenever you're sending it, with our live exchange rates.

Send money to over 150 different destinations

Make payments in local currency with competitive real-time rates during market hours, so you know exactly how much you're sending and receiving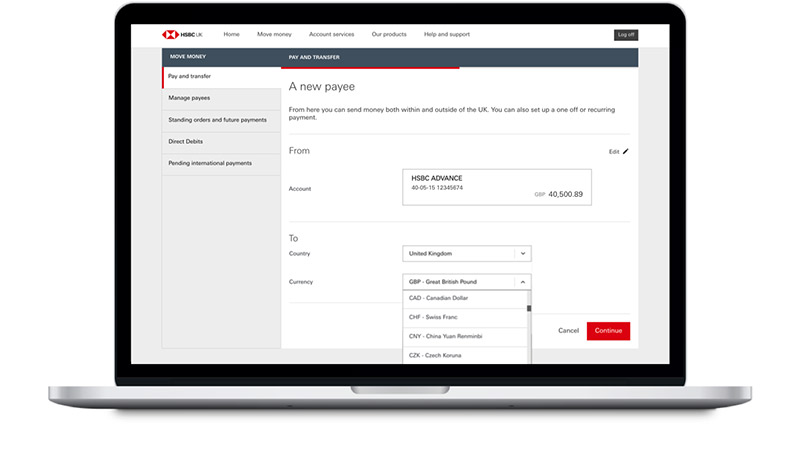 Sending and receiving money outside the UK
How it works
What you need to send money outside the UK
What you need to receive money from outside the UK
How to send money outside the UK
How to set up and cancel recurring or future payments
How much it costs
Sending money outside the UK
Receiving money outside the UK
Get started
Log on to online banking to start sending money internationally 24/7.

Not registered yet?
Register now to start sending and receiving money worldwide.

You might also be interested in
How to open an account overseas
Need to make regular international payments? If you're moving outside the UK, we'll help you open an account in your destination.

HSBC Currency Account
Send, store and receive up to 14 foreign currencies easily with our multi-currency holding account.

1. Some charges by intermediary banks may apply, but we won't know what they are until after the payment is made.
2. Countries within the EEA include Austria, Belgium, Bulgaria, Croatia, Cyprus, Czech Republic, Denmark, Estonia, Finland, France, Germany, Greece, Hungary, Italy, Iceland, Ireland, Latvia, Lithuania, Liechtenstein, Luxembourg, Malta, Norway, Netherlands, Poland, Portugal, Romania, Spain, Slovakia, Slovenia and Sweden.

HSBC Personal Banking Terms and Conditions and Charges (PDF, 1.4MB)