The price of success: funding your child's degree
The cost of university has been a topic of debate for many years. But what's striking now is the extent to which students and their parents are stretching themselves to foot the bill.
According to a new HSBC study, Value of Education 5: The price of success, UK students are spending £41,200 on average over the course of a degree. This includes tuition fees, accommodation, living costs and having some fun.1
And even though parents often step in to help – contributing around £8,400 on average – students still need to find some £32,800 to cover their costs, the study found.
This funding gap is leading to both students and parents taking on more paid work, and debt. Parents are also sacrificing their own travel and leisure activities.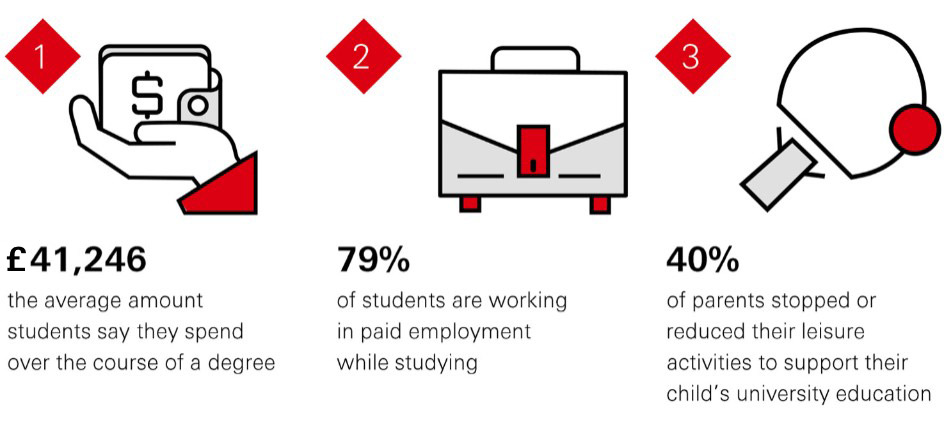 Parents tighten belts
Parents are making big sacrifices to fund their children's university education:
40% say they've reduced or stopped leisure activities, such as going to restaurants and the cinema
over a third have taken fewer holidays
29% have worked extra hours or taken a second job
The vast majority of parents – 84% – are digging into their day-to-day income as they make those sacrifices. Only 7% have a specific education savings or investment account to tap into.
Unsurprisingly, almost a third of parents helping to fund a child at university wish they'd started saving earlier.
Almost half worry that they don't have the financial resources to support their children, while 44% of parents that contribute don't know how much their child's education is costing.
How to prepare?
1. Start early
Early planning and saving for education can help your children fulfil their potential and limit the strain on family finances. Seeking professional advice can help you plan and make better informed choices.
Explore more: View our savings options

2. Be realistic about the costs
It's easy to focus on the tuition fees, but there are other costs to consider. Make sure you take everything into account when planning how to financially support them through higher education.
Explore more: The cost of uni

3. Encourage good financial habits
Help your children to plan and manage the costs of student life by taking advantage of the budgeting tools and calculators available online.

4. Invest in a range of skills
Help your children choose an educational route that will equip them with the softer skills needed for the workplace of the future. These are things like problem solving and social skills, as well as the specific skills for their chosen career.
1The Value of Education is an independent consumer research study into global education trends, commissioned by HSBC. It provides authoritative insights into parents' and students' attitudes and behaviour towards education around the world.
These findings are from the fifth survey in the series and represent the views of 10,478 parents and 1,507 students in 15 countries and territories: Australia, Canada, Mainland China, France, Hong Kong, India, Indonesia, Malaysia, Mexico, Singapore, Taiwan, Turkey, United Arab Emirates, United Kingdom, United States. This includes the views of 1,000 parents and 100 students in the UK. The research was conducted online by Ipsos MORI in March and April 2018.
The research was conducted online by Ipsos MORI in March and April 2018.
This includes the views of 1,000 parents and 100 students in the UK.