Switch your account quickly, easily and securely
Thinking of switching banks? We've teamed up with the Current Account Switch Service to make moving your account to us a breeze.

We take care of everything

All you need to do is tell us your old bank details and when you want to switch.

All your payments moved automatically

Including all your existing regular payments like Direct Debits and your salary.
Stay updated at every step

We'll send you text alerts and tell you when everything's sorted.

Your switch completed in just 7 working days

From start to finish, that's all it takes (you'll need your new current account ready to switch into).
The Current Account Switch Service makes switching from your old current account to us quick and simple.
As part of the service, we'll transfer all your payment mandates (like Direct Debits and your salary) over to your new HSBC account. And any payments sent to your old account will be automatically redirected to your new one. Once the switch is complete we'll let you know everything's done, and your old account will be closed.
Everything is backed by the Current Account Switch Guarantee (PDF, 355 KB), so in the unlikely event that anything goes wrong, you won't be out of pocket.
When I switch current accounts, what happens and when?
If my bank isn't signed up to the Current Account Switch Service, can I still switch?
Can I use my old account while my current account switch is taking place?
Do Third Party Provider (TPP) permissions switch across?
Useful documents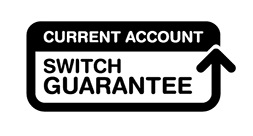 Switch bank accounts online
Don't have a current account with us?
Please apply for a current account first. You'll be able to switch to us as part of your online application.

Prefer to switch in-branch?
Already got a current account with us?
If you already have an account, you'll need to switch by visiting us in branch.
You might also be interested in