Switching current accounts - what you need to do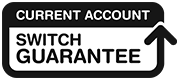 If you're ready to switch bank accounts, here's how switching using the Current Account Switch Guarantee works.
The Current Account Switch Guarantee covers the majority of UK current accounts. This means that it should take only 7 working days to switch your current account, once your new account is open.

The guarantee ensures the process of switching current accounts is the same, regardless of the bank or building society you choose. Plus, you'll be refunded any charges or interest incurred if something goes wrong.

If you have a joint current account, you'll need permission from any other account holders before you switch.
Step 1: Check eligibility
Start by checking you meet the eligibility criteria for the current account you're interested in. This may vary from bank to bank. For example, you may need to pay in a minimum amount of money each month, or set up a minimum number of Direct Debits.

Step 2: If you want an overdraft, apply first
If you want an arranged overdraft with your new current account, you'll need to be approved by your new bank before you make your switch.

Step 3: Tidy up your existing account
Bank statements can come in handy for identification and for some loan applications, so get some copies from your current bank before you switch. Also, check your Direct Debits and standing orders to make sure they're still necessary. You can cancel any you no longer want to make.

Step 4: Choose your bank switch date
Switching current accounts takes 7 working days and you can choose the date you'd like the switch to be made.

Step 5: Start the switching process
Tell your bank or building society you want to switch using the Current Account Switch Guarantee. They'll take care of everything from there, making sure the following are switched to your new account:
balance
incoming payments (such as your salary)
outgoing payments (such as Direct Debits, standing orders and bill payments)
You can use your old account as usual, but don't set up any new Direct Debits or standing orders from your old account.

Step 6: Start using your new current account
Your old account will be closed and your new one ready to use on your switch date. From this point forward you can use your new account as normal.

What if you don't want to close your old bank account?
You can make what's called a partial switch to a new current account, but this isn't covered by the Current Account Switch Guarantee. It also takes longer than 7 working days. You'll need to arrange for credit payments to be transferred in to your new account.
Keep in mind, if you do a partial switch you may not get some of the incentives that are being offered by your new bank.