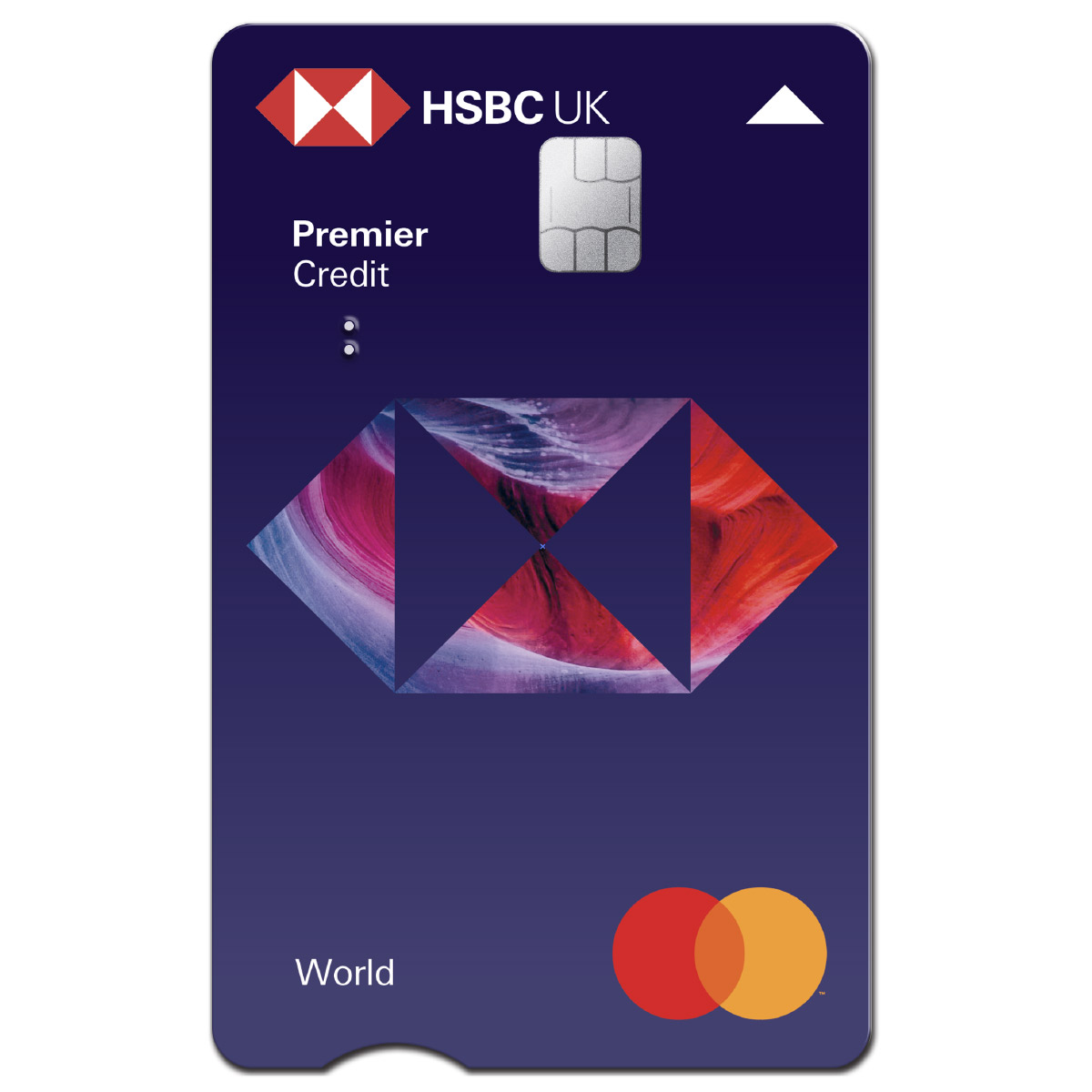 Premier Credit Card
Available exclusively for existing HSBC Premier customers, this card brings you a world of travel benefits, a rewards programme and access to HSBC Premier Privileges. If you qualify, you could enjoy interest-free periods on balance transfers and purchases – all for no annual fee.
Credit is subject to status, affordability and applicable terms and conditions.
Based on an assumed credit limit of
£1,200

Card details
0% interest on balance transfers for 18 months* from account opening

The rate for balance transfers is 0% for 18 months, where the transfer is made within 60 days of account opening. A 1.4% balance transfer fee applies to each balance transferred (minimum £5)*.

0% interest on purchases for 9 months* from account opening

At the end of the promotional period, Balance Transfer and Purchases will revert to the standard variable rate.

Apple Pay – immediate access to spending

Add your new credit card to Apple Pay from the iOS version of the HSBC UK Mobile Banking app. This allows you to pay for things in shops, apps and on websites immediately using Apple Pay, while waiting for your new card to arrive.
*At the end of the promotional period, balance transfers and purchases will revert to the standard variable rate.

Rewards
Earn points when you spend

Earn 1 point for every £1 you spend in Sterling*, and 2 points for every £1 spent in other currencies.

*Sterling currency includes transactions made in the UK, Jersey, Guernsey and Isle of Man as well as transactions overseas where you choose to pay in Sterling rather than local currency.

HSBC Premier Rewards for Miles

Every 2 points are worth the equivalent of 1 Frequent Flyer Mile with our selected partner airlines.

Extended warranty cover

Get up to 2 years extended warranty provided by Domestic & General Insurance PLC, on selected household appliances. See below for more details.

HSBC Premier Privileges

A unique collection of special discounts and experiences exclusively for our HSBC Premier Credit Card customers.

Mastercard® Priceless® Cities

Access thousands of experiences at over 45 destinations worldwide with Mastercard.

Exclusive offers

Access worldwide offers and discounts on everything from savings on clothing to exciting days out. We're constantly updating our offers, so they may vary as new ones come in. Discover HSBC home&Away.
Travel benefits
Enjoy airport lounge access

With membership in the LoungeKey programme, just show your Premier Credit Card to gain access to over 750 airport lounges worldwide. Please note, lounges charge £20 per person per visit, subject to availability.

Mastercard Travel Rewards

Make the most of travelling outside the UK with Mastercard Travel Rewards. Get cash rewards when using your credit card with participating merchants. View the current offers for your travel destination.
Hotel discounts

Receive a 10% discount on selected hotels booked with your HSBC Premier Credit Card through Expedia or a 10% discount on over 180,000 hotels booked with your Premier Credit Card through www.agoda.com/HSBCPremier. Cardholders also benefit from 12 months' complimentary Expedia+ Gold Membership.
Using your card
Manage your card online

Online banking is a convenient way to manage your card. It lets you check your credit card balance, make payments and stay in control.

Use your card abroad

You can use your HSBC Credit Card at any retailer or cash machine that displays the logo on your card. Fees apply and non-HSBC cash machines may also charge a fee.

Enjoy 24/7 worldwide assistance

Day or night, help is always at hand if your card is lost or stolen. Wherever you are in the world, you can speak to our dedicated support team about getting an emergency cash advance.
Find out how to convert your points for airmiles
How to redeem your points
Protecting your purchases with extended warranty cover
Apply for HSBC Premier Credit Card
Please note HSBC Premier Credit Cards are only available to HSBC Premier customers.

Please ensure you read the important information in the 'Things you should know' section before applying.
Registered for online banking?
If you're already registered for Online Banking, you can apply online now.
View your pre-filled application form, submit in just one click, and receive an instant decision.
Apply in the mobile app
If you're registered for mobile banking and have downloaded the app you can apply within the app in just a few clicks.

Not registered yet?
You need to be registered for Online Banking to apply.
Apply in branch
It's usually quickest to apply online, but if you're having trouble with your application, we're here to help - just head to our contact us page.

Apply by phone
To apply for an HSBC Premier Credit Card, please speak to your Relationship Manager.

You can also call us on 0800 032 4735.
Lines are open from 8:00 to 20:00 every day (except Christmas Day, Boxing Day and New Year's Day). Calls may be monitored and recorded.
Please note - You can only apply by phone or branch if you are an existing HSBC customer.