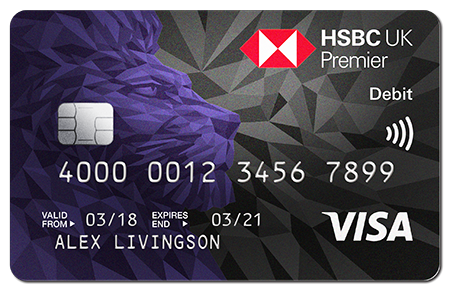 More than just a bank account
Discover a current account that's created for your constantly changing world. An account that helps you make the most of life – with complimentary worldwide travel insurance, family benefits, a choice of exclusive credit cards and more.
You'll need to meet certain financial and other eligibility criteria to apply for an HSBC Premier Bank Account.
£125 cash when you switch
To claim your reward, open an HSBC Premier Account as a new customer. Then use the Current Account Switch Service within 30 days to complete a full switch with at least 2 Direct Debits or standing orders. T&Cs apply.


Travel insurance is designed to cover for unforeseen events. Because of rolling, global media coverage, from 17 March coronavirus is now a known event. This means you will not be covered for any claim relating to the current global crisis COVID 19. For further information you should refer to your policy wording (specifically page 18 clause 13).

Relax with free annual travel cover

Enjoy preferential terms on mortgages and savings

Save money on your mortgage with preferential terms for you, your children and grandchildren. Plus, earn 0.20% AER/tax-free on your savings with a preferential rate on our Loyalty Cash ISA.

Stay on top of your global accounts

If you have HSBC accounts in other countries or regions you can manage them all online, plus you can make fee-free transfers between them in minutes.
The first £500 of your arranged overdraft is interest-free, and it's 39.9% EAR above that. Overdrafts are subject to status.

Representative example: 0% EAR variable on the first £500, 39.9% EAR variable on anything above that, giving a representative rate of 21.8% APR4 variable (assumed arranged overdraft £1,200).


Get it all for no monthly fee

Experience all the benefits of a premium account without having to pay for the pleasure.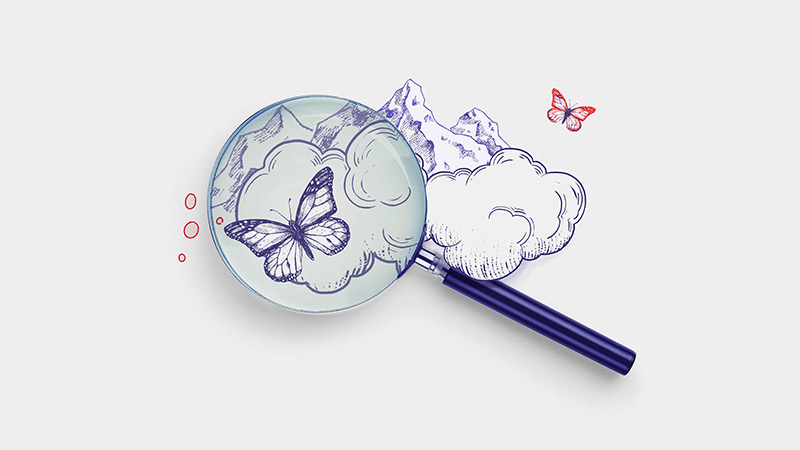 Premier credit cards
Discover a world of travel benefits and rewards. As a Premier customer you'll have exclusive access to a choice of 2 credit cards, both of which give you reward points when you spend, discounted airport lounge access – and more besides.
Representative example: 59.3% APR (variable) representative on an assumed credit limit of £1,200.
Exclusive benefits for your family
Your Premier account gives your loved ones access to a wealth of benefits, too. Your complimentary travel insurance covers your partner, children and grandchildren. You, your children and any grandchildren will also have access to preferential mortgage terms. And that's not all.
Plus, with our HSBC Current Accounts and Credit Cards, you can access worldwide offers and discounts on everything from savings on clothing to exciting days out for the whole family. If you're also a Premier customer, you can take advantage of extra special discounts too. We're constantly updating our offers, so they may vary as new ones come in.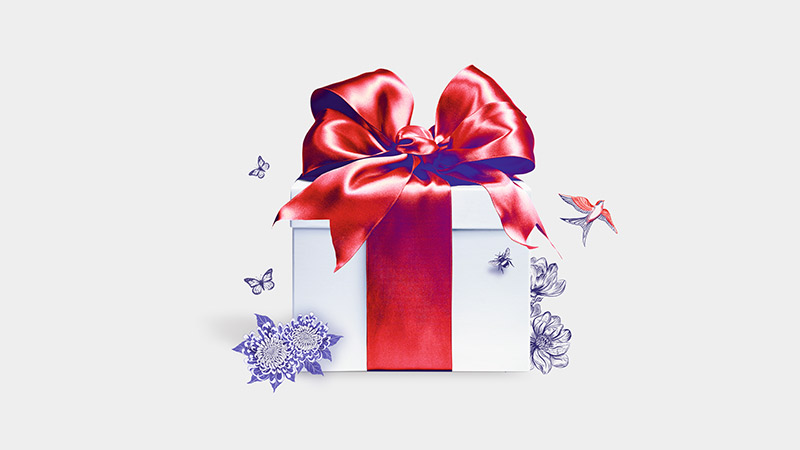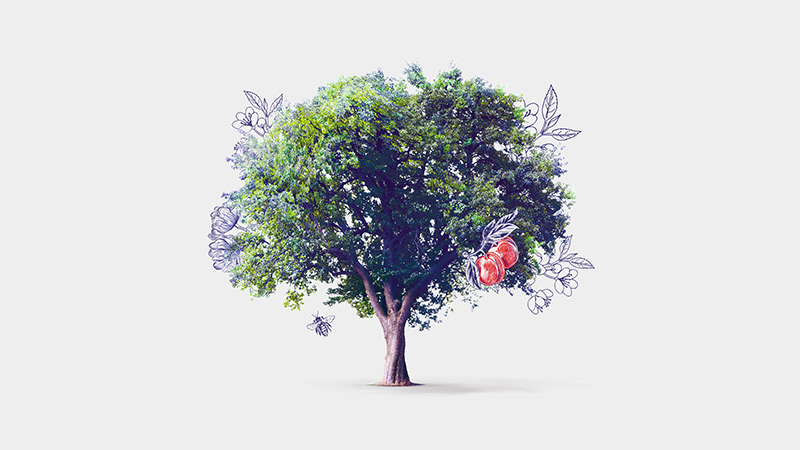 Support for you
Our team of experts are there to help you to manage your banking and finances. Our aim is to meet your personal needs so you can make the most of HSBC Premier. You can also get HSBC Premier Financial Advice to help you make the right choices when planning for the future. Fees and eligibility criteria also apply for our financial advice service.
Charges and overdrafts
Arranged overdrafts and unarranged overdrafts
An overdraft lets you borrow money on your current account. An arranged overdraft is where we agree an overdraft limit with you. This can help in months when you have extra expenses.

An unarranged overdraft is when you make a payment that takes your account over your arranged limit or overdrawn when you don't have an arranged overdraft in place.
We'll always consider an unarranged request and make the payment if we can. Unarranged overdrafts may result in declined transactions. We report account activity, including overdraft usage, to credit reference agencies. An unarranged overdraft lasting more than 30 days could have a negative impact on your credit rating.
Overdrafts are not suitable for long-term borrowing and usually result in interest.
If you take an arranged overdraft, you can later ask us to increase, reduce or remove your limit at any time online, by phone or in a branch.
If you end your overdraft you'll have to repay any overdrawn amount and any interest owed. If you want to reduce your limit, you'll first need to make sure you bring your borrowing down within the new limit.
To find out more, visit our overdrafts page where you can find out if you're eligible and use our overdraft cost calculator.

If you have an arranged overdraft, the first £500 is interest free. Anything you borrow above that will be charged interest at 39.9% EAR variable. 2
If you go into an unarranged overdraft, the amount you borrow will be charged at 39.9% EAR variable.
Representative example: 0% EAR variable on the first £500, 39.9% EAR variable on anything above that, giving a representative rate of 21.8% APR variable (assumed arranged overdraft £1,200).
Overdrafts are subject to status.

We'll send you overdraft text alerts if you've used or are due to use an arranged or unarranged overdraft on your account. This is to help you monitor your usage and let you know what action you can take to avoid interest.
If you don't provide your mobile number or let us know when you've changed it, we won't be able to send you these text alerts.
You can opt out of the arranged or unarranged texts at any time by phone, or by going into a branch.
Opting out of alerts may mean you incur avoidable costs. If you choose to opt out of text alerts, this will apply to all personal current accounts you hold with HSBC UK.

Charges for using your debit card abroad
If you pay for something or withdraw money using your HSBC Visa debit card while you're outside the UK, you'll need to pay a 'non-sterling transaction fee' of 2.75%. So, for example, if you spent or took out £100, you'd be charged a fee of £2.75.
Any transactions you make will be converted into pound sterling (unless you choose to pay in local currency). To make sure your exchange rate is as competitive as possible, you'll pay the exchange rate set by Visa.
Important account documents
Other account information
HSBC Premier is available to you if you pay your annual income into your HSBC Premier Bank Account and meet 1 of the following eligibility criteria:

1. Income and product
Have an individual annual income of at least £75,000 and 1 of the following with HSBC UK: a mortgage, an investment, life insurance or a protection product.

2. Savings or investments
Have savings or investments of at least £50,000 with HSBC UK, within 6 months of opening your account.

3. International Premier
Hold and qualify for HSBC Premier in another country or region.

New to HSBC?
Apply for your account online in minutes. Our switch offer is really popular at the moment, so it may take longer to process your application. No need to contact us though, we will be in touch.

If you'd like a joint account, please apply in one of our branches or by phone.

Already a customer?
Sorry, we're not offering regular upgrades to Premier at the moment. Due to coronavirus restrictions, we're focusing on providing essential banking to vulnerable customers. We're working hard to offer this service again soon.

If you're a Premier customer in another country or region, please speak to your Premier Manager or your local branch to apply for an account.
Apply in branch or by phone
You might also be interested in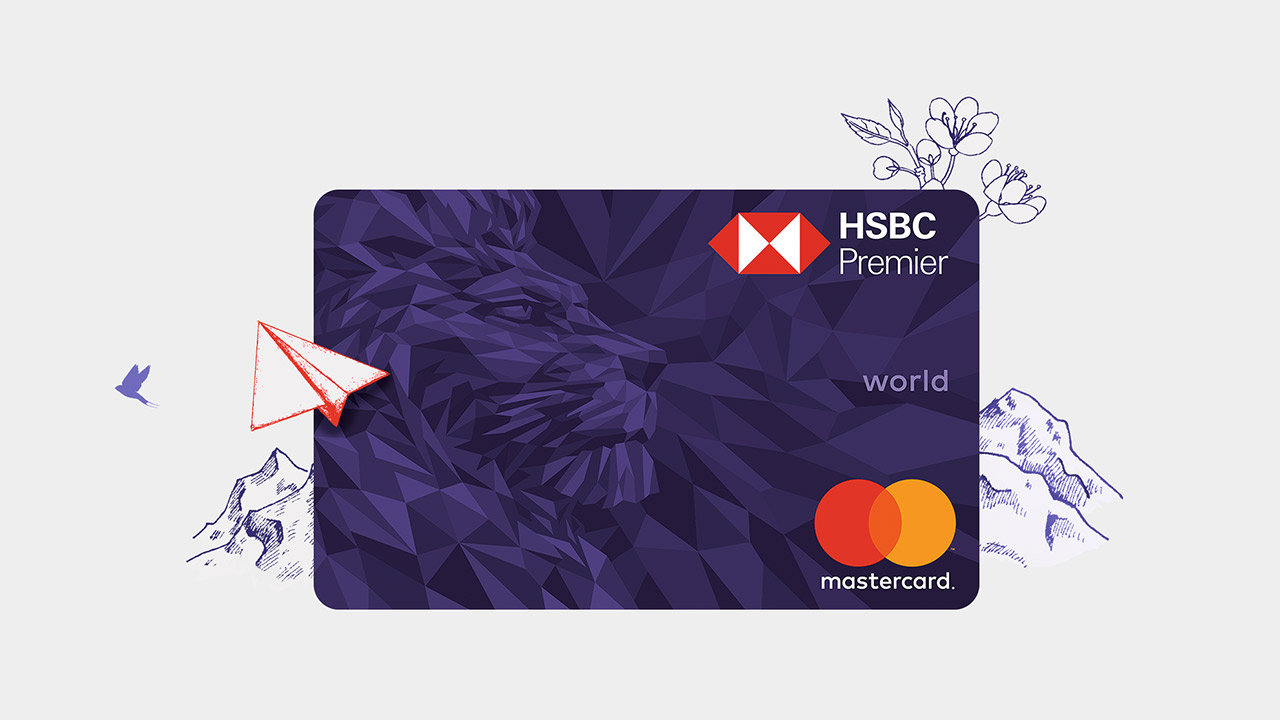 Premier credit cards
Earn points when you spend, which you can redeem for air miles, retail vouchers and more.

Additional information
1. Premier Worldwide Travel Insurance is provided by Aviva and is available to Premier account holders. You must be under 70 years of age when the trip begins. Children/grandchildren must be under 18 when the trip begins (or under 23 if in full-time education). See full eligibility criteria
2. EAR means effective annual rate. This is how all UK banks must show interest rates on their overdrafts, to make it easier for you to compare one bank's overdraft with another. Please note that it doesn't include any fees you might be charged in addition to interest. Back to 'Charges and overdrafts'

3. This offer is available to all HSBC UK current account customers. One British Cycling Fan membership per customer, with the ability to upgrade to other membership options for an additional cost. You must activate your membership by 31 December 2019. Terms and conditions apply. Back to 'Other account information'
4. APR (Annual Percentage Rate) is the rate at which someone who is borrowing money is charged, calculated over a period of 12 months. It takes into account not just the interest, but also any other charges that may have to be paid and any interest-free amount. Back to 'Charges and overdrafts'